Get Your Own Free Clock Widgets
One of the most creative ways to give your website a blogs a personal touch is to provide the current local time of the area where you live. This gives your website more of a "live" feel, especially when the clock or calendar/clock has an animated look.
The first example shown here is probably the best solution for free clock widgets - ClockLink.com. ClockLink offers some of the most innovative designs under categories like Analog, Animals, Seasons, Digital, Holidays and many more.
Use a Free World Clock Widget
ClocksLink also provides this very impressive World Clock widget that you can embed on your website simply by clicking on "View HTML Tag," copying the code and then pasting it into your website or blog wherever you want it. With this widget, visitors can select whatever time zone in the entire world that they would like the clock to display. This offers your visitors a very nice customized world clock.
Islamic Clock Widgets
The Alhabib Islamic web service offers a fascinating gallery of free clock widgets that feature Islamic designs and symbols on the face. These are beautiful clocks that would go well on any Islamic blog or website, or even on your MySpace or Facebook account.
Use a Countdown Clock
Countdownr by countdownr.com provides a series of very neat looking countdown widgets that you can use with the Countdownr service, or you can embed directly onto your own page. This is one approach to place a clock on your website, but instead of simply keeping track of time, it counts down to a specific event. There are a lot of fun uses for such a widget on your blog or site, such as counting down to a birth, counting down to a major political event, or any other significant date that you want to celebrate on your site.
WorldClockr World Clocks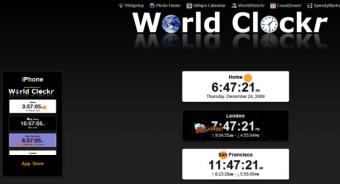 If you like the design of Countdownr but you want a standard calendar clock instead of a countdown clock, then you'll love WorldClockr. WorldClockr at worldclockr.com lets you embed a widget for several major world time zones. These widgets have a fantastic design and would look great on any blog or website.
Xorbin Flash Clock Widgets
Xorbin.com takes the flash approach to offer very impressive flash widgets that you can embed anywhere on the web that you like. This site provides a very nice mix of both analog and digital clocks.
LocalTimes World Clock Widgets
Localtimes.info is the first place you should go if you just want a variety of simple clocks for different parts of the world. The impressive part of this collection of clock widgets is that you can find just about any region of the world and install the clock widget for the time in that area. You have a choice between analog or digital clocks.
Worldtimeserver Clock Creator
Worldtimeserver.com offers this very impressive online tool which lets you customize the appearance of the clock (choose from a long list of colors), as well as the location for the time that the clock will display. The appearance of this clock is very retro and would look great on any modern website or blog.
Spring Widgets Wedding Clocks
If you have a wedding coming up and you've created a wedding website or blog, then you'll want to check out the popular Spring Widgets library of fantastic clock countdown widgets. These widgets display a countdown clock toward your special day.
WidgetBox Clock Category
If you can't find any clock widget anywhere else, Widgetbox is always a popular repository for a huge library of clock widgets. There's even a category specifically for clocks that you can embed on your website.
If you liked this slideshow, don't forget to check out the following LoveToKnow Web-Design slideshows as well.