How To Create a Web Album
How to Create a Web Album
If you're trying to figure out how to create a web album on your web page, one of the most highly rated free solutions is iWebAlbum. This free software received awards from Softpedia, Download.com, and numerous other software sites for it's quality. In this series of slides you'll learn more about using iWebAlbum to create a web album on your web page. The first thing to do is visit the iWebAlbum web page, download and install the application.
Software Overview
When you first open iWebAlbum, you'll find a very simple and straightforward layout. The software provides two steps, add photos and edit the album. The first step is to click on the "Add photos..." button.
Add Photos to Your Album
If you want to add one photo at a time, click the "Add photos..." button. However a much faster feature is the "Add folder..." button which lets you add multiple photos at once from a directory on your computer.
Add Descriptions For Each Photo
Clicking "Edit Title & Comments" allows you to edit the properties for each individual photo. Keep in mind that your selections will become part of the picture's own web page.
Edit Album Properties
When you click on the "Edit Album" button, you can edit album properties like the template (skin), style, picture size, how the thumbnails are laid out, title, comments, and a link back to the web page that calls the album.
Generate Web Album
Once you click "Generate Web Album," the software generates the files you'll need on your website to display your new photo album online. At this point you can view the album using a browser, or open the folder where the files are stored.
Preview the Local Web Page
Make sure to preview the web page so that you're sure the album looks how you expect it to. The book skin is a great style for an online photo album, and clicking on the individual photos opens up a stylish popup slideshow.
Popup Slide Show
This is what the popup slide show looks like. The navigation is at the top so that you can scroll through all of the photos in the album.
FTP Files Up to Web Host
The final step is to upload your files to your web host. In this image, you can see the files transferred from desktop to http://www.spiritcamping.com/campingtrip using the JavaFTP client.
Your Photo Album is Online!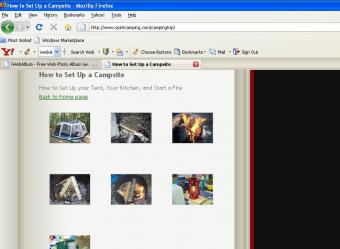 Once the files are all downloaded, you can open up the web page using your browser and your photo album is online! To learn more, read this article which outlines other ways how to create a web album.